Solar energy
Clearway is one of the country's leading wind energy developers, owners, and operators, working across both regulated and deregulated markets.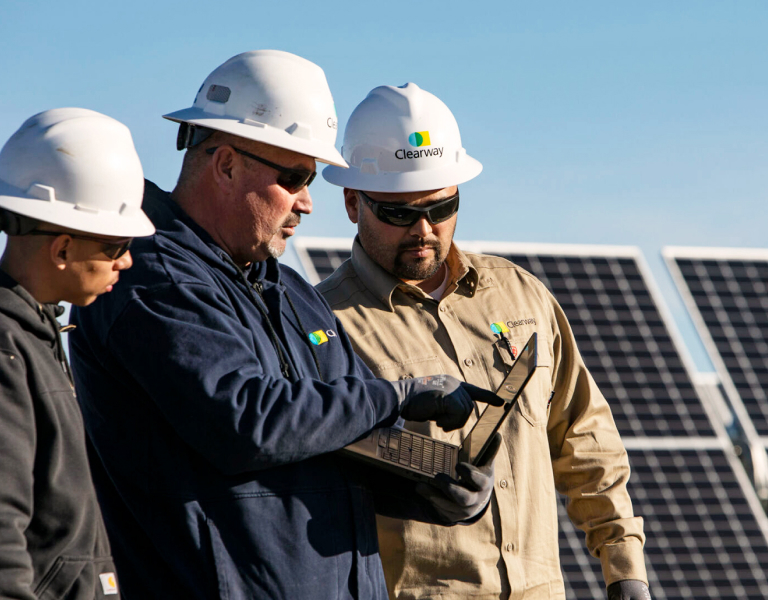 Clearway is one of the largest full-service solar development and operations companies in the U.S. Today we own and operate solar projects in 19 states.
Clearway is currently developing solar projects in 17 different states. Our solar development team prides itself on identifying well-sited projects that can navigate transmission and permitting challenges.
How solar energy strengthens communities
Clearway's solar farms are investments in host communities. We're proud to be a part of a growing industry making a positive impact right where we work.
Solar energy means healthier communities.
Zero
emissions to generate power
Clearway's solar farms help drive down the cost of energy for everyone.
#1
lowest-cost form of new power in the United States
Clean power delivers a growing share of U.S. demand for energy.
80 GW
solar energy capacity nationwide
Mililani Solar
The 39-megawatt (MW) Mililani Solar power plant is paired with a 156 MWh battery storage system and includes over 123,000 photovoltaic panels.
Rosamond Central
The 192 MW Rosamond Central solar project is located in Kern County, California. The site generates enough electricity to power over 71,000 homes each year.
Daggett Solar
At 482 MW solar + 394 MW storage, Daggett Solar is among the largest solar and storage projects in the country.
Texas Solar Nova
Texas Solar Nova is a $660 million investment in West Texas' clean energy economy. Once complete, Texas Solar Nova will help corporate offtakers reach their sustainability goals with long-term power contracts.
Agua Caliente
Agua Caliente is a 290 MW solar farm in Dateland, Arizona. With a long-term power purchase agreement with PG&E, Agua Caliente has generated low-cost clean power since 2014.
Open video in lightbox
Rosamond Central Solar Farm
Rosamond Central is a 192 MW solar farm in Kern County, California that is contracted under Power Purchase Agreements.
Open video in lightbox
Leading Hawaii's 100% clean energy transition
Just before Hawaii closed its last coal plant, it flipped the switch on Mililani Solar, O'ahu's first solar + storage power plant. The 39 MW solar and 39 MW storage site provides reliable and low-cost clean power even after the sun goes down.
Get in touch to work with us
Whether you're a landowner interested in hosting a project, energy buyer shopping for long-term power contracts, equipment supplier, or someone else interested in working with Clearway, we'd love to hear from you.